We hope everyone has had a great Halloween week full of lots of tricks and treats.  Moving on into November, we can expect Albuquerque to be loaded with plenty of activities to partake in a
s we get just a few days closer to Election Day and (can you believe it?) the holiday season.
More than just a celebration of tango, Por el Amor al Tango (For the Love of Tango) delves into the dance that can awaken something in ourselves and each other. The gala stage production, featuring internationally acclaimed dancers of Argentine Tango, release the romance, passion and and elegance of tango. Take your special someone to the KiMo Theatre tonight or tomorrow at 8 p.m. and marvel in the rapture of tango.
What better way to spend a Friday evening than socializing and having a great time with your local community? Dia de los Muertos is a holiday celebrated in Mexico as a way to commemorate and honor deceased loved ones. Starting tonight at 5 p.m., join together in calavera attire and enjoy the games, music, sugar skull painting and refreshments.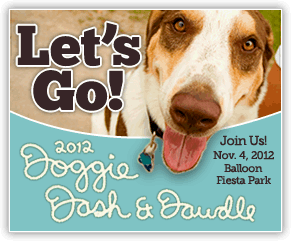 Bundle up for a chilly morning with your dog on Sunday and make a dash to Balloon Fiesta Park for the 30th Annual Doggie Dash & Dawdle. Whether you have a dog or not, the Doggie Dash and Dawdle is an opportunity to help fund Animal Humane's Circle of Care to help more than 5,000 pets annually. The festival includes vendors, doggie carnival games, music, food and more that can be enjoyed by you and your four-legged friend.
Within the blur of all the political buzz just before Election Day, Capitol Steps presents a political satire that twists the seriousness of government affairs and affiliations as quite comical. The members of Capitol Steps are equal-opportunity comedians so no party is off limits. The performance is at Popejoy Hall at 3 p.m. on Sunday. Admission is between $10-$34.
What are you doing this weekend?